The Industry's most attractive, durable accordion door. Accordion doors are the fastest, easiest way to divide space. You simply pull the door across the opening and latch in position. Accordions are a great choice when you need to divide your space up frequently.
Hufcor accordion partitions are available in a selection of models. All Hufcor accordion doors have an internal steel pantograph for smooth, even extension whether the door goes wall-to-wall, through intersections, or around curves. Two semi-rigid, laminated covers are attached to the pantograph. The cover design provides strength and stability as well as resistance to punctures, tears, rips or cuts.
Services Offered for Accordion Doors:
Inspections
Preventative Maintenance
Service/ Repair
Hufcor's Added Value
When comparing accordion doors, consider Hufcor's added value: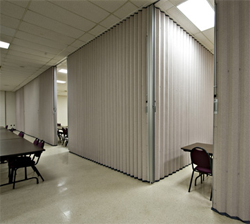 Wrinkle-free, impact resistant covers provide a smooth symmetrical appearance, not the drapery look offered by other manufacturers. The laminated cover construction adds strength and stability to the door. The unique cover construction resists punctures, tears, rips or cuts. However, if damage should occur or if you decide to change your decor, the cover, or portions of the cover, may be replaced on site for a fraction of the original cost.
All models have an internal pantograph of 14 ga. steel for even extension and to support the covers. The pantograph provides years of smooth, easy folding action and allows the doors to easily maneuver through curves and switches.
Steel bearing carriers (trolleys) covered with nylon tires support the wall in the overhead track. The carriers are riveted to the steel pantograph every 18"-21" and provide smooth, quiet operation.
The adjustable lead carrier enables the door to be adjusted for out-of-pumb conditions and allows proper alignment of the door for effective latching at all times.
A selection of heavy duty aluminum track systems is available to accommodate various ceiling conditions. The track is equipped with inter-locking keys for precise alignment, which ensures long carrier and door life.
Steel posts are at the lead and trail end of the door. The posts are covered with attractive clear anodized aluminum. The lead post includes handles and a latch. The lead post on acoustical models also includes a magnetic seal to help close the door and seal out sound.
Acoustical models include multi-ply sweepstrips at the top and bottom, both sides of the door.