Featuring Irwin Seating Company, Grand Rapids, MI
We can make your Auditorium Seating project something truly special.
At The Folding Equipment Company in Toledo Ohio we offer high quality auditorium chairs and auditorium seating provided by Irwin Seating Company. Irwin Seating Company offers a wide selection of chairs to its customers.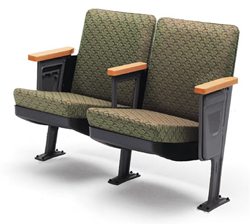 Auditorium seats are an integral part of every theater's or auditorium's appearance. How to install a theater seat without taking away from the look of the theater is an important consideration. Options such as natural wood on the back and decorative end standards add elegance and beauty to a theater setting.
Types of auditorium seating we carry include:
Customized theater seats
Planetarium seating
Auditorium seating with E-link power and data systems
All of our auditorium seating is customizable to your specifications.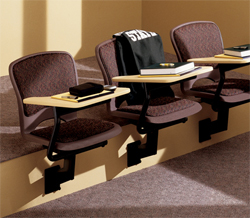 At Folding Equipment, we install auditorium seating throughout Northern Ohio and Southern Michigan.
High school auditorium seating
College classroom and lecture hall seating
University auditorium seating
Seating for theaters
Arena seating
Stadium seating
Our many auditorium seating styles will accommodate any architectural
design from modern to any historical period.
Educational Seating

Marquee

No. 51 Marquee back with ergonomic structure & polymer rear panel
No. 12 Ergo seat
No. 10 Aisle end panel with upholstered insert
No. 4 Steel chair platform
Comfort curved wood armrests
No. 92 ADA flip-up arm end standard
36" nominal back height


Citation

No. 4 Citation back with polymer rear panel
No. 12 Suspension seat
No. 00 Open aisle end
No. 4 Steel chair platform
Comfort Curved Polymer Armrests
Row letter & seat number plates
32" Nominal back height
Lecture Room

Folding Tablet Arm Chair

No. 71 Folding tablet arm chair platform
No. 7 Semi-upholstered seat shell
Pedestal mount
Extra-large writing surface


Uni-Lecta

Tables with modesty panels
Self-return seats
E-link power-data system
Places of Worship

Millennium

No. 47 Millennium back with ergonomic structure and polymer rear panel
No. 12 Ergo seat
No. 66 Laminate surfaced aisle end panel
No. 4 Steel chair platform
Flat laminate surfaced hardwood armrests
Row letter and seat number plates
31" Nominal back height


Meteor

No. 8 Meteor back with veneer surfaced rear panel
No. 12 Ergo seat
No. 56 Veneer surfaced
No. 4 Steel chair platform
Flat maple hardwood armrests
Concealed low-voltage IED aisle light
31" Nominal chair height
Cinema

Signature Rocker

No. 74 Signature back with ergonomic design, decorative pleats, optional decorative stitching and polymer back panel
No. 12 Loge seat assembly with optional sculpted foam cushion and decorative stitching
No. 2 Laminate surfaced end panel
No. 2 Rocker chair platform - floor mounted
Flip-up cupholder armrests


Signature Flip-Up Arm

No. 77 Signature back with ergonomic design, decorative pleats and polymer back panel
No. 12 Loge seat assembly with optional sculpted foam cushion and decorative stitching
No. 91 Laminate surfaced end panel
No. 1 Flip-up arm chair platform - floor mounted
Articulating backs
Performing Arts

Springfield

No. 11 Veneer surfaced Springfield back with front facing reveal
No. 6 Upholstered seat
No. 155 Baroque cast period-style end standard
No. 8 Chair platform
Scrolled solid hardwood armrests
Row letter and seat number plates
33" Nominal back height


Empire

No. 63 Veneer surfaced Empire back
No. 22 Fully upholstered seat
No. 156 Music box period-style end standard
No. 8 Chair platform
Scrolled solid hardwood armrests
33" Nominal back height
Sports Facilities

Patriot

No. 30 Blow-molded patriot back
No. 52 Blow-molded seat
No. 00 Open aisle end standards
No. 30 Patriot chair platform (steel), riser mounted
Blow mold plastic armrests
Row letter and seat number plates
32" Nominal back height


Senator

No. 39 Blow-molded Senator back
No. 45 Blow-molded seat
No. 35 Aisle end standards
No. 35 Stadium chair platform (cast iron), riser mounted
Integral armrests
32" Nominal back height
Home Theatre

Signature

No. 72 Signature back with decorative pleats and polymer rear panel
No. 12 Suspension seat
No. 90 Laminate surfaced aisle panel
No. 8 Chair platform
Plastic cupholder armrests


Springfield

No. 11 Springfield Back with veneer surfaced panel attached with concealed fasteners
No. 12 Suspension seat assembly
No. 142 Fulton period style cast aluminum aisle end standard
No. 8 Chair platform
Scrolled hardwood armrests