At Folding Equipment Company, our display cases are all built to order, allowing custom sizes to meet all of your outdoor and indoor needs. School and trophy display cases are available with standard duty unframed doors as well as oversized, heavy-duty framed doors, either sliding or hinged.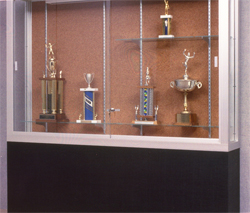 Our display case units are available with incandescent or fluorescent lighting fixtures, surface or recessed mounted for anything your school or office wants displayed. We also offer wire suspended or typical bracket supported glass shelves. A variety of profiles help to fine tune the design of your next display case.

Folding Equipment Company in Toledo Ohio strives to provide display products that meet the design criteria for your project. We are able to provide a wide range of designs, sizes and configurations for your display cases.
Our trophy display cases include features such as tempered glass and locks that make them perfect for use in a school, business, museum or office setting. Display trophies, collectibles, awards and any assortment of items in a display case that complements your treasures. Our selection of display cases is functional, beautiful and well built.