Welcome to The Folding Equipment Company, the Northern Ohio and Southern Michigan leader in bleacher and platform seating. From schools and universities to auditoriums, arenas, sports stadiums, performing arts centers and places of worship. Folding Equipment Company provides seating solutions for your venue.
We have an unrivaled network of local experts ready to assist you in developing the perfect telescopic bleacher seating solution. Our telescopic seating can be either manually operated or we offer a friction drive system.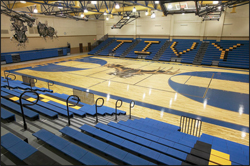 We offer customers seating options for every venue:
Wood Bench Seats
Stadium Platform Seating
Plastic seat modules
Folding back supports
Auditorium platform seating
Wall attached telescopic seating
Recessed seating
Forward folding seating
Wheelchair/ADA options available
Options Include:
Cup holder armrests
Tablet arms for classroom auditoriums
Upholstered chairs
Rear rails and back panels for safety
Elevated front rows
Plastic seating on concrete risers
Folding wood backrests
Scorer's tables
Footrest aisles
End curtains for added safety
End rails
Services Offered:
Inspections
Preventative Maintenance
Service/ Repair
We offer a wide range of color options that will brighten any facility. You can choose single, multiple colors, school colors or have your school's name or mascot spelled on our plastic seating modules.