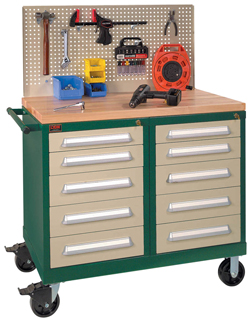 Folding Equipment Company in Toledo, Ohio is one of the largest suppliers of top quality lockers, industrial storage and workspace products in the area. We carry innovative high-quality products that serve our customer's needs and provide the best possible locker, storage and workspace solutions.
Workspace products we carry include:
Steel shelving

Engineered storage systems
Display bins
Open shelving sections
Closed shelving sections
Wide shelving
Galvanized shelving
Wire shelving sections
Tool shelving systems
Counter shelving and more!
And accessories

Storage cabinets

Some with removable plastic bins

Modular drawer cabinets
Mobile workstations
Steel lockers
Workspace furniture

Work benches
Adjustable leg work benches
Electronic assembly work stations
Mobile tool stands
All welded carts

Ergonomic and safety products

Guard rail systems
Ergonomic multi-task chairs
Anti-fatigue mats
Liquid storage cabinets

Tool storage
Storage racks
Specialty storage systems
Contact a Folding Equipment Company representative today and let us help you find the perfect storage system.