Moveable walls are the standard product to use when dividing classrooms, training rooms, ball rooms, and gymnasiums. Folding Equipment Co. in Toledo, Ohio offers several models of operable wall including steel framed panel, steel reinforced frames, hinged pair panels, individual panels, curve and diverter and electric wall type systems. Folding Equipment's operable walls are tested to high quality standards with life cycle, stress, and serviceability of the panels for our customers.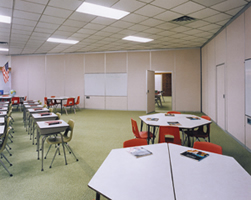 There are many styles of operable wall to choose from:
Accordion doors or folding partitions
Timber-framed glass walls
Movable glass partitions
Frameless glass walls
Aluminum track systems
Self supported system used with operable, glass or accordion partitions
Portable partitions ideal for schools and churches
Pocket doors
Mobile partitions to create rooms within rooms
Services Offered for Operable Walls:
Inspections
Preventative Maintenance
Service/ Repair
At Folding Equipment Co., our glass partitions are weather resistant and can be customized with specialty glass. Our durable aluminum or steel track systems assures your partitions will move easily for years.
Our operable walls are also available with ADA compliant pass doors, exit signs, work surfaces such as chalkboards, eraser pockets and a safety system for our electric partitions.
Contact a Folding Equipment representative and inquire about our full line of operable walls.